Rio de Janeiro is a wonderful city. In fact, it`s one of the most beautiful and fun cities on earth. Carnival, breathtaking beaches, forests, magnificent architecture, excellent restaurants and night life are here, waiting to be enjoyed.
But besides all that, what most people don`t realize, is that the city has a great potential when it comes to outdoor activities. And instead of just visiting it, tourists can interact with nature, whether it`s hiking, climbing, zip lining in Tijuca Forest or hang gliding. And within a 2 hour drive from the city, around the state of Rio de Janeiro, customers can also choose from many different options of adventures, such as rafting, scuba diving or exciting side trips to Ilha Grande or Serra dos Orgãos for example.
ABOUT RIO ADVENTURES – WHAT CAN WE SAY?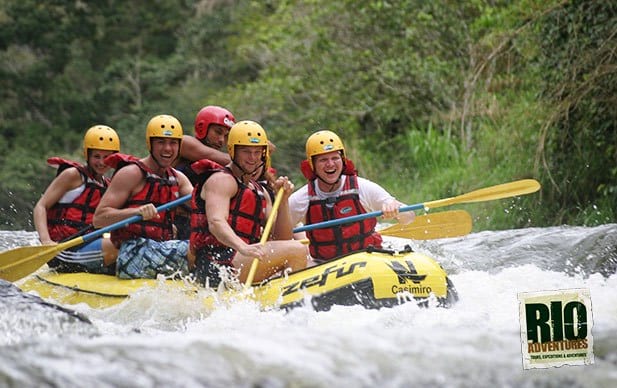 So what can we say about Rio Adventures ? Well, it is hard to talk about yourself without sounding self promoting so here is what we can say about ourselves: we are an adventure tour operator based in Rio de Janeiro, that has been around since 2001, managed by a team of "locals" who know exactly what travelers and outdoor enthusiasts are looking for, when coming to Rio. We are focused in outdoor activities, adventure sports and ecotourism, but we also provide the regular and most common tours, to places such as Sugar Loaf, Corcovado and other tour spots.
It is just a matter of choice. You may choose to go up to Sugar Loaf by cable car, no problem in that, we will surely take you up there. But we will be very pleased if you decide to get up there by walking, or even rock climbing. Our philosophy – which really defines us for what we are as a company and who we are as employees – is to offer you a different approach, a particular way to see our city, through our eyes. Once we have accomplished that, we will consider our mission done.
A BIT OF THE BOOKING PROCEDURES
We provide online booking, and use Paypal, to make your life a little easier. We do not require credit card information nor confirm bookings over the phone. Everything is done through the website. We do answer calls and respond to questions over the phone , but bookings are formalized by e-mail and confirmed after the down payment.
Remainder is always paid in cash to the guide in charge, at the start of the tour. Check our Terms and Conditions for all detailed info.Unlike many tour operators, we only require a 20% to 50% deposit, according to the tour
WHY CHOOSE US?
Have you noticed that Rio Adventures is the ONLY adventure tour operator in Rio that displays its prices on the web?
Don`t you, as a potential customer, find it a little odd that all the other competitors only give you their prices after you request it?
In our point of view this is very unprofessional and dishonest . All tour operators should have their prices listed in their websites.
First, it is convenient for the customers and second, it is the right thing to do. In our theory, they avoid displaying prices so when you call them or send a request by e-mail, they can pretty much give you the price they want, according to the season or their mood.
So are we the cheapest tour operator in the market? Certainly not. If you want to provide outstanding customer service, hire the best guides and instructors, be known as a serious company that takes care of your employees, pay the higher salaries in the business, work only with top quality equipment , you cannot offer the cheapest rates. It is simply impossible. Still, we do offer a great deals and discounts for groups, and can beat up the competition as long as your previous quotation was made with a real company.
When we say real is because we cannot match our prices with the prices of very small companies (one person`s companies) or even the pirate companies. Pirate companies are basically websites created by ordinary people, like tour guides for example, pretending they have a company, so they can offer you very attractive deals online. They do not have costs with employees, insurance, vehicles, office, telephone bills and etc, so of course they can offer better rates. But watch out for those ! In most cases they don`t have infrastructure to deal with larger groups nor have the competence to deal with different aspects of the process when a problem is presented to them.
10 REASONS WHY YOU SHOULD CHOOSE OUR SERVICES:
One of the oldest tour operators in the business, since 2001 providing adventure tours, sports, ecotourism and all types of tours around the city of Rio.
High ranked at google, always in the first page when you type keywords like "Rio de Janeiro" plus the activity you are looking for.
Listed in the most important guidebooks all over the world, like Frommers, Lonelyplanet, Time Out and Insight Guides.
Listed in the Official City Guide Book from Rio Tour
Listed at tripadvisor`s website at http://www.tripadvisor.com with very good reviews.
Best adventure website in Rio, all in English, easy to navigate with the latest technology ( responsive website) that allows visitors to open the website in any type of cell phone in any screen size, without losing its contents.
Provides payments online through Paypal, where you can safely pay with credit cards and e-checks, without sharing your personal information.
Runned by a team of "locals" who have lived outside Brazil for years, so you are in the hands of brazilians who understand both local and international cultures.
Work only with top quality equipment, the best guides and instructors as well as safe and comfortable vehicles, vans and jeeps.
We love what we do. Of course we need money just like any other company in any other line of business, but to work in this field, you cannot expect to deal with very large groups, after all, we are talking about human lives and sometimes, things can get out of control. It is a conscious decision we made, since we first started. When you choose to work in this line of business, you just cannot deal with very large groups, and therefore you substantially reduce your profits.

We could be selling sightseeing tours around the city in large buses with 45 passengers in it, but it is just not who we are. We want you to have a great experience in Rio, interacting with nature and with the culture, along with your family and friends. We want to you to have a more natural experience, getting to know not only the places our guides can show you, but also getting to know our guides and our company a little better. In the end what matters is the social interaction between us. In the end we want us to be friends, so you can go home not only carrying good memories of places you visited, but also of the nice people you met along your journey. This is what really matters to us. This is who we are!
RECOMMENDED BY